PVC Fence & Vinyl Fence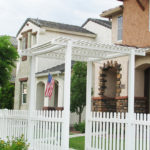 Vinyl fence outlasts and outperforms most other types of fencing. Its durability and reliability will go beyond and above expectations. Engineered to be weather and wind load impact resistant. Our vinyl fence is durable and weather protected due to the chemistry of its componets and uv coating. It is guaranteed never to chip, peel, blister, rot or rust, saving the expense of painting and repainting. Aesthetically pleasing product with excellent warranty and cost. Choose from traditional white, offwhite, almond, light brown and gray colors.
Full Privacy Fence Panels
Full Privacy panels come with a wide variety of decorative tops and every section includes a reinforcement channel in the bottom rail. Privacy panels offer a privacy panel for every taste.
Semi Privacy Fence panels
Semi-Privacy line offers the largest selection of semi-privacy fence styles. Semi-Privacy panels are designed to offer privacy without the closed in feeling.
Semi-Privacy line includes a reinforcement channel in the bottom rail of all semi-privacy sections.
Shadow Box Fence Panel – PVC spaced Picket
Traditional Pickets look like the traditional picket fence. This face mounted picket panel is manufactured with two different picket widths that can be assembled with either a regular or reduced spacing. We recommend that you select the through rail style of picket fence. It is a 2-sided "good neighbor" fence, instead of the nail-on picket fence.
Lattice Fence Panel
Lattice Fence Panel is a style that can be incorporated with other fence styles. It has crossed members pattern leaving diamond shape openings used for visibility or gardening design windows on the upper section of the fence.
Ornamental Picket
Ornamental PVC Picket Fence is an alternative to the any ornamental metal fence materials. Maintain the look of ornamental metal fence materials without the maintenance. All panels are manufactured with a reinforcing channel in the bottom rail for strength that will not fail. Ornamental Pvc Fence style has become a true new choice for real estate owners in areas where the ornamental metal design look is desired without using a hard metal fence materials.
PVC Railing
PVC Railing offers one of the most complete lines of vinyl railing on the market today. This series is great for decks and porches. All railing panels are manufactured with a steel channel in the top rails.
Post & Rail fence with four different styles available for any of your needs — two rail, three rails, and four rails or cross buck. Great look and the strength you need.